September 22, 2:30 pm
Where
University of Nairobi Towers,4th Floor, Room Mini Lecture Theatre 04
Zoom: Register in advance for this meeting:
Link will be provided in due course
EMERGING HORIZONS OF HISTORICAL & ARCHAEOLOGICAL RESEARCH IN KENYA
Where
University of Nairobi Towers,4th Floor, Room Mini Lecture Theatre 04
Zoom: Register in advance for this meeting:
Link will be provided in due course
The Department of History and Archaeology here in Nairobi was one of the most established centres of historical scholarship in Africa from the 1960s onwards. It had vibrant research programmes; gallant faculty which pioneered studies that immensely contributed to the mainstreaming of local agency in scholarship from the 1960s through to the 80s.
However, at some point, we went through a rough patch of our history. During this time, research, in its diverse ramifications and discourse, largely, took a back seat while instincts of basic-needs survival took centre stage in the academy.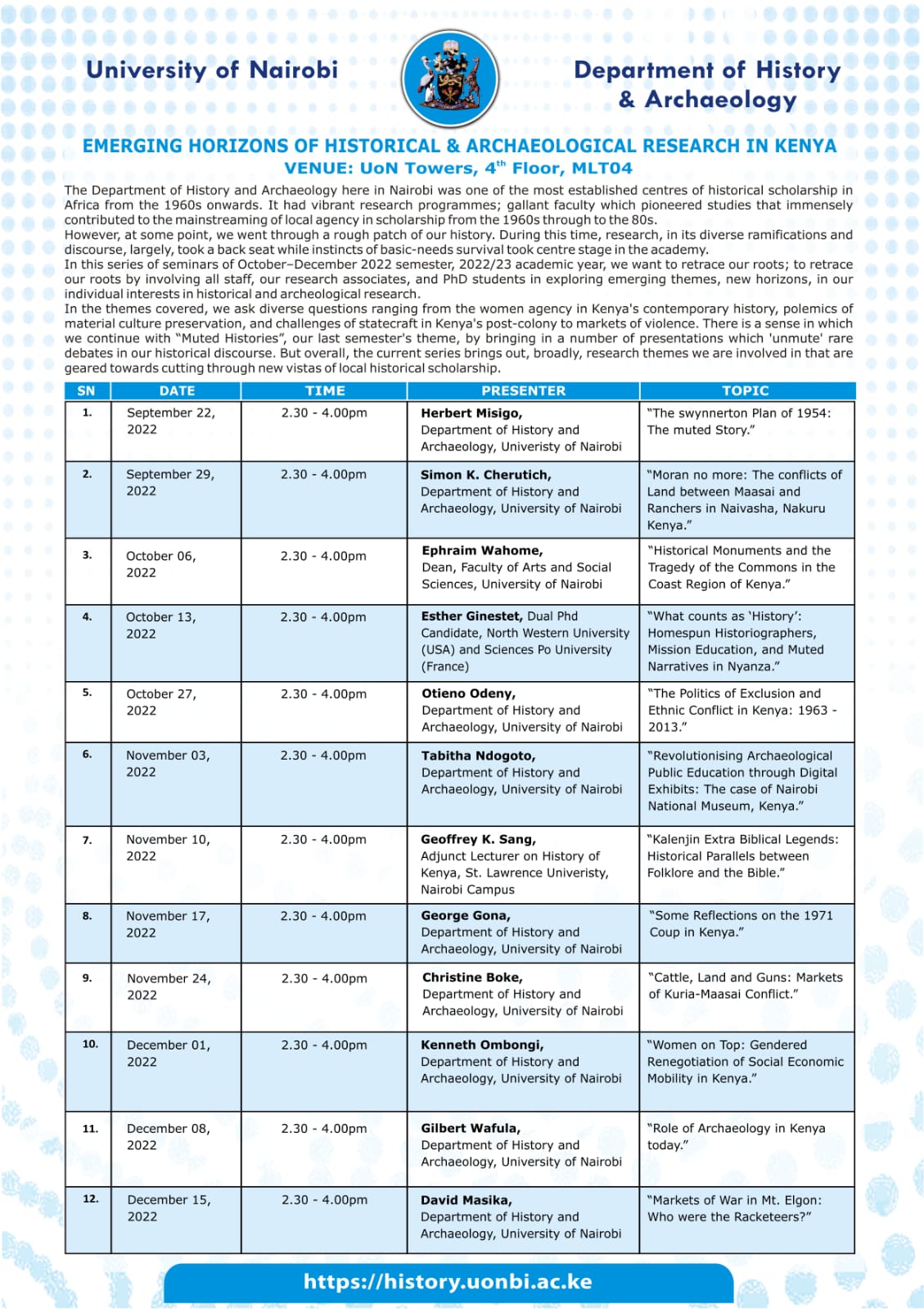 In this series of seminars of October–December 2022 semester, 2022/23 academic year, we want to retrace our roots; to retrace our roots by involving all staff, our research associates, and PhD students in exploring emerging themes, new horizons, in our individual interests in historical and archeological research.
In the themes covered, we ask diverse questions ranging from the women agency in Kenya's contemporary history, polemics of material culture preservation, and challenges of statecraft in Kenya's post-colony to markets of violence. There is a sense in which we continue with "Muted Histories", our last semester's theme, by bringing in a number of presentations which 'unmute' rare debates in our historical discourse. But overall, the current series brings out, broadly, research themes we are involved in that are geared towards cutting through new vistas of local historical scholarship.